Laborer/equipment Operator
Company:
Schuylkill County Municipal Authority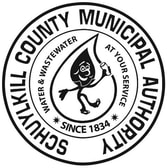 Job Location:
Pottsville PA, 17901 United States
Job Overview:
The Schuylkill County Municipal Authority (SCMA) is currently accepting applications for Laborer/Equipment Operator – Distribution/Collection Division.
​
SCMA is seeking motivated applicants with experience in operation of backhoe, excavator, dump truck, vacuum pump truck, sewer/water jetting equipment, tapping equipment and/or other industry related equipment. Qualified applicants must possess a High School Diploma, valid PA Driver's License and a minimum of five (5) years' experience in the utility pipeline construction and maintenance field. Class B CDL and traffic control experience are preferred. Also looking for experienced laborers who are safety oriented, self-motivated, and display a positive attitude. These positions require on-call duties.